The Community Heartbeat Trust works closely with all the ambulance services in the UK. We will not undertake a project in a community unless the local ambulance service has been informed. As a result we enjoy an exceptionally close relationship, and several ambulance services representatives are on our management board. We work closely with every Ambulance service to maintain and make sure all equipment is rescue ready through our
WebNos governance system
. With which we relay information about defibrillators and there ready status via regular reports. We handle getting you registered with your local Ambulance Service and notify you when you are live on their CAD system. 
If the above map does not display due to add blocker or other measures you can check the Ambulance Service response times in your area by going to
www.ambulanceresponsetimes.co.uk
Ambulance Service Activation Radii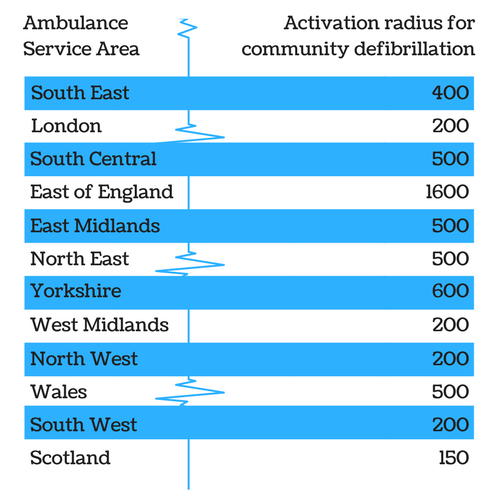 When a 999 call is made, the ambulance service control room will triage (assess) the situation and if appropriate, request the community defibrillator be collected. In most services, they will tell you the location of the nearest defibrillator, and give you the access code if appropriate (not all public defibrillators are in locked cabinets) depending on whether you are within the activation radius of the community defibrillator. If you are the lone rescuer with the patient, most services will not ask you to collect the defibrillator, but ask you to stay with the patient and undertake Chest Compressions to keep the patient alive. CHT has the VETS system in operation to help in situations where there is a single rescuer, and/or a spread out community.
The 'radius' the Ambulance service will tell you, will vary by ambulance service. The current activation radii are listed to the left. The distance is in meters.

First determine which Ambulance Service you are under to see your defibrillator activation radius. Click on the start button above and type in the postcode in the top left bar. In the bottom right type the radius and select Metres. Then click on the map where the defibrillator location is (proposed or actual) and a radius will appear, simply click again elsewhere to add another or right click to remove.
Governance, Ambulance Services & The CQC
All Ambulance Services are now being audited by the Care Quality Commission on public access defibrillators, and any that are not reported on for a period will be removed from the Ambulance Services CAD, to ensure that this does not happen we would encourage you to register on our Webnos system in order to have a simple and straightforward method of relaying information about your defibrillator to the local Ambulance Service, if you would like to do this please contact us and request an "Ambulance Briefing form" to get your defibrillator registered today.

"West midlands ambulance service are happy to be working alongside Community Heartbeat Trust on developing the national data base for community defibs. We have also had a great deal of success in developing and implementing community public access defibs.  We look forward to developing this close relationship in the future."  -­‐ Duncan Parsonage, Community Response Manager , West Midlands Ambulance Service NHS Trust 

"The Welsh Ambulance Services NHS Trust is pleased to work in partnership with the Community Heartbeat Trust in improving cardiac arrest survival rates through community defibrillation. The CHT in partnership with us has enabled communities across Wales to have provision of public access defibrillators in largely rural areas where early defibrillation is essential". -­‐  Gerard Rothwell Public Access Defibrillation Schemes Officer, Welsh Ambulance Services NHS Trust. 
    
"The Scottish Ambulance is pleased to be working with the Community Heartbeat Trust for the provision of life saving defibrillators to the remote areas of Scotland. It is our view that the placing of publicly accessible defibrillators saves lives as survival rates of cardiac arrest improve greatly where defibrillators are available." -­‐   Patrick O'Meara, General Manager Community Resilience, Scottish Ambulance Service. 

"The East of England Ambulance Service are pleased to be working with the Community Heartbeat Trust in assisting the more rural parts of our trust in the provision of and training in the use of public accessible defibrillators. It has been proven that if the collapsed patient has access to a defibrillator it will improve their chances of survival and this is what we are trying to achieve." -­‐ Glen Young, Regional General Manager, Health & Emergency OperaEons Centre, East of England Ambulance Service NHS Trust.  

"We welcome this initiative and will be working with CHT to identify the locations where defibrillators would be of the greatest benefit. In most cases, this will be in areas where access to emergency medical help is difficult due to travelling distances."-­‐  East Midlands Ambulance Service NHS Trust press office.