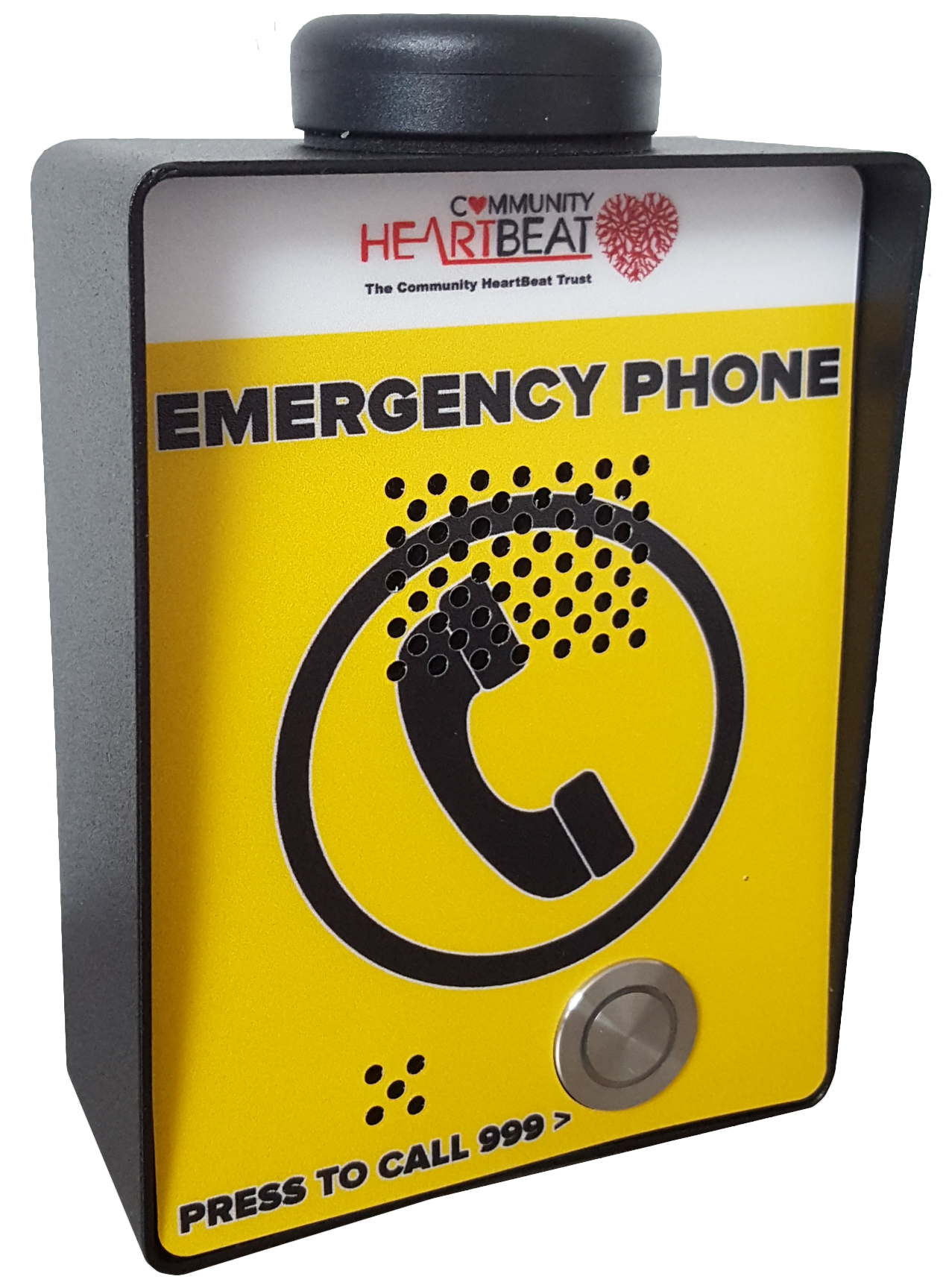 One Button, One Device For 999 Calls
---
Many communities have used their telephone kiosks for defibrillators. This means the telephone has been removed, but not everyone has a mobile telephone or a reliable signal with which to use one.
---
The Community Heartbeat Trust (CHT) is able to restore a 999 telephone to the kiosks (The only organisation granted permission by BT) or provide a unit anywhere in the village with access to a phone line or as a GSM (Mobile) model where no phone line is present as part of your community resilience program to support your community defibrillator.
The GSM Phone will connect to any network that provides a signal and CHT can provide a test mobile to check your location to see if such a solution is viable before installation.
Landline 999 Phones are also available to areas without signal as part of a project started with BT in Loweswater, where the 3000th adopted kiosk was outfitted with a defibrillator and a Landline Emergency Phone. BT has set aside a fund to provide lines for phones in areas where kiosks have been adopted, but a mobile GSM Phone is not a viable solution and the telephone has been removed. The hardware is available via CHT.
Both units can be placed in any location and landline phones can be installed anywhere with an already available line and in some cases such as the village of Onecote is installed independently of a defibrillator scheme and attached to the village hall wall, which operates as an emergency phone line for the community to use to contact Police, Ambulance or Fire Services as the mobile signal is an issue within the village.
More information on the BT fund and information about emergency phones is available from Community Heartbeat upon request.
---
How do mobile telephones work? How do I get through to 999?
---
Cellular (Mobile) is a 2-way radio and coverage is dependent upon transmitting mast, its height, power, environment and whether there are any blockages such as hills or buildings.
Each mast covers in the main a single carrier, although new legislation will enabling mast sharing. Thus any location may have a strong signal for one carrier and poor for another.
It is also dependent upon your handset. If you have an older handset, then you may only be able to pick up and transmit on a 2G signal. A modern handset will send/receive on 2G/3G/4G and soon 5G.
Thus if you have a 2G handset in the above location, operating on O2, then your mobile will not work for normal calls and will show no signal. Similarly if you have an O2 handset, operating on 2G, but in a 3G/4G O2 signal area, then again your handset will show no signal.
If you have a modern smartphone in the above location, it will be able to send/transmit on any carrier available in an emergency 999 or 112 call, as these operate on 2G/3G/4G .
There are also 'hidden' networks, such as the Emergency Services network, where your smartphone will also access in an emergency.
In an emergency, call 999 or 112 (mobiles only) and your mobile telephone will access any network it is able to link to, regardless of the carrier. Your mobile will transmit your GPS position.