The Community Heartbeat Trust charity has always been at the forefront of new ways to deliver life-saving defibrillators to communities. We were the very first to approach BT to convert red K6 style kiosks, and set the standards for this; we were the first to offer a Governance system for the management of defibrillator; we were the first to design and build a standardised yellow cabinet for defibrillator storage; we are the only charity to independently test all defibrillator equipment as to its suitability for public use, and in 2020 we were the first to offer a comprehensive monitored defibrillator cabinet to the UK market.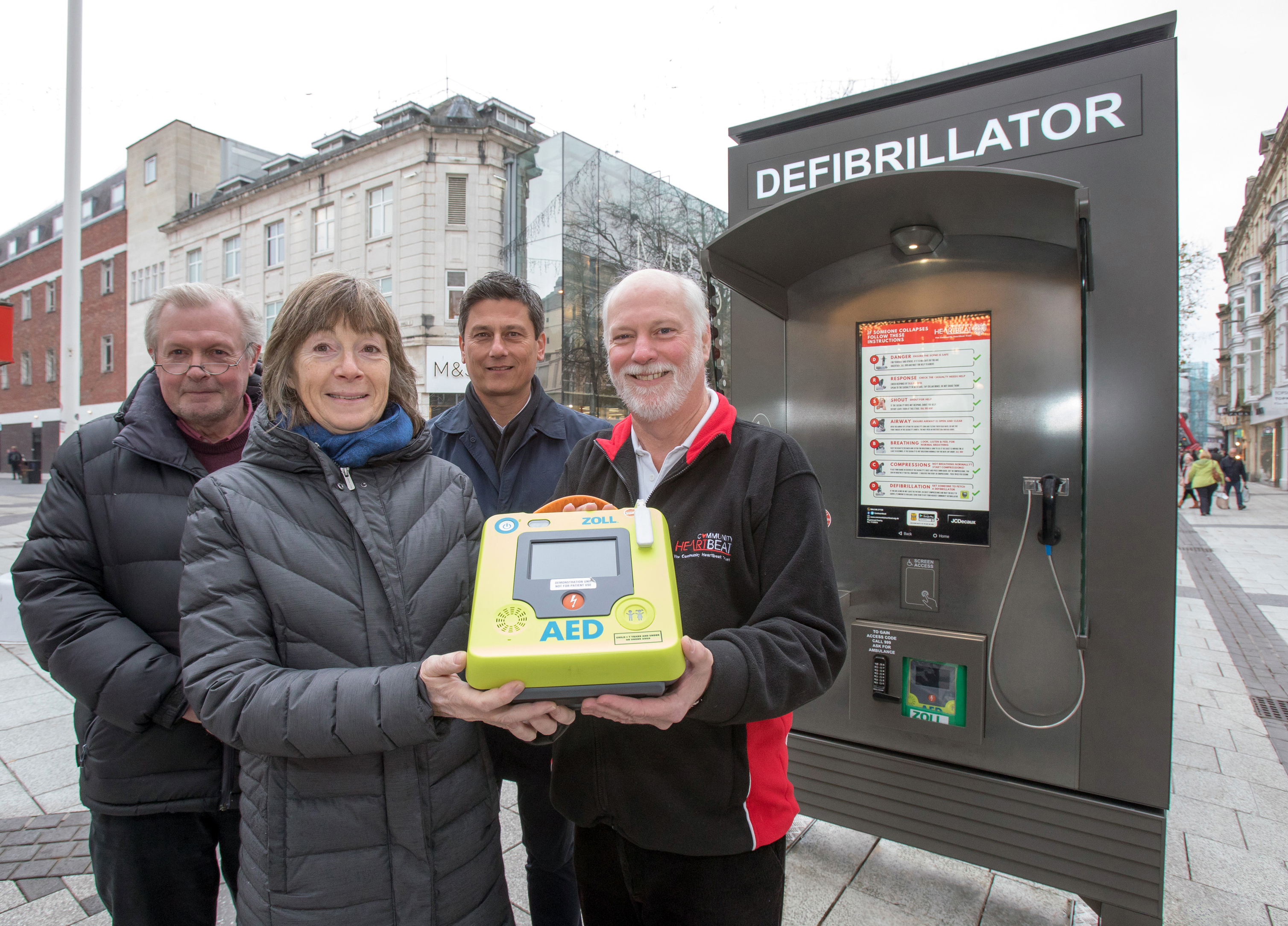 In 2018 we started working with the advertising group, JC Decaux, to help place up to 500 communication hubs into high footfall areas with defibrillators integral to the design, and also with the opportunities for public health information, particularly how to save a life information.
Working with JCDecaux UK, in addition to the defibrillator, the new kiosks will include a range of public services including an accessible payphone, Wi-Fi and USB charging stations, and a 32" interactive touch screen with wayfinding, pubic education and council information – all paid for by advertising.
The kiosks use the high technology Zoll AED 3 defibrillator equipment, with visualised instructions for ease of use, and also Chest Compression feedback and coaching, resulting in higher levels of public confidence, and higher levels of successful rescues. Public training programmes accompany the placements, and the defibrillators have a full service contract in place to ensure sustainability.
To date these innovative solutions have been placed in Cardiff, Leeds, Newcastle, Birmingham, Liverpool, London, Manchester, Northampton, Stoke on Trent, and many other locations. We intend that all major cities in the UK will have these facilities, representing not only a potential for life-saving, but also opportunities for health education, and public information.
The kiosks carry an 86", high-definition Digital 6-sheet advertising display, enabling national advertisers and local businesses to keep the public up-to-date with relevant and timely brand messaging. On the reverse, there is 32" high resolution interactive display, that can be configured for every local need, to include educational material, tourist information, heath updates, and also play videos on health matters, such as how to save a life. Below the 32" screen is the cupboard with the defibrillator, accessible by calling 999 and asking for the ambulance service. At the same time rescue information is displayed. A telephone; a 999 intercom, WiFi HotSpot and a mobile phone recharging point are also supplied.
The ability to offer and show health information, opens up opportunities for local ambulance services, hospital trusts, health boards, community councils, Departments of Health and local educational establishments to display information in an interactive manner. To access this, please contact CHT in the first instance.
Phil Drye, Chief Commercial Development Officer at JCDecaux UK said, "JCDecaux has worked closely with The Community Heartbeat Trust charity to bring these defibrillators to some of the UK's busiest streets – providing a valuable public service that could save lives when time is of the essence. This innovative project is located in the busiest locations where people are out shopping, commuting and socialising, benefiting residents and tourists as well as local and national organisations."
To learn more about JCDecaux visit there website at www.jcdecaux.co.uk