Community Training
There is no legal requirement to have defibrillator training. The UK Resuscitation Council guidelines indicate that community defibrillators (AEDs) should be able to be used by members of the public with or without any formal training. This is because the equipment is very easy to be used, and when you have called 999, the ambulance service operator will normally stay on the telephone to assist you. The modern AED equipment is also designed to talk to you and tell you what to do. You cannot make a mistake when using and AED – just follow the instructions being given. However training is desirable, particularly to create confidence in the community, learn CPR, and to understand the processes, as well as managing best practice, and reducing potential for liability.
CHT works with the ambulance service to provide community awareness sessions, or can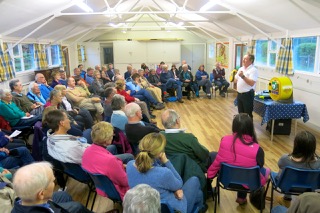 offer an inclusive full training programme if required through its training partners. Annual
retraining is advised on formally trained people.
The CHT community awareness 'Heartbeat' programme is unique has been recognised as
being ideal for a rural community to create awareness of the issues surrounding treating a
patient in the community. It is not a formal classroom course, but designed to answer
questions, give basic instruction, be interactive and create confidence.
WHAT IS INVOLVED
Each 2 hour session covers:
What is Sudden Cardiac Arrest 
5 minutes to save a life'
Physiology of the heart'
How to recognise SCA
How to dial 999 :-
what to expect - questions you will be asked
How to do CPR and why
How to use your AED
Recovery position/turning a patient
Handover to the Paramedics
Governance and support programmes
The first awareness session for a community is normally built in to your delivery when the community uses the CHT full cPAD programme. Additional sessions may incur a small charge. Full first aid training sessions are chargeable and can be arranged through CHT.
Since January 2015 alone over 33,000 have attended these sessions. 
If you would like to request an awareness session for your community please contact us
here
and we can send you further details.