---
The Electrical Problem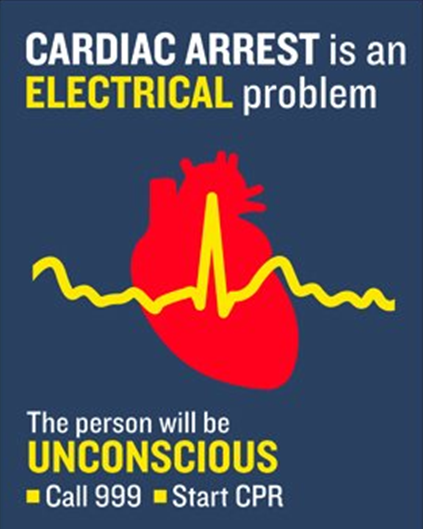 ---
Sudden Cardiac Arrest is an electrical malfunction of the heart where the heart stops pumping blood due to an abnormal rhythm is known as an arrhythmia.
This means that no blood can be pumped to the other vital organs in the body like the Liver, Brain and Lungs. As an individual loses pulse, consciousness and the ability to breath, they verge on death and can only be brought back to life within a limited window of time using a defibrillator or AED. 
Most cases of sudden cardiac arrest (SCA) are due to ventricular fibrillation (V-fib). V-fib is a type of arrhythmia. In v-fib, the ventricles (the lower heart chambers) don't beat normally. Instead, they quiver very rapidly and irregularly.
When this happens, the heart pumps little or no blood to the body. V-fib is fatal if not treated within a few minutes via defibrillation. CPR can also buy the patient vital time until defibrillation. 
---
The Circulation Problem
---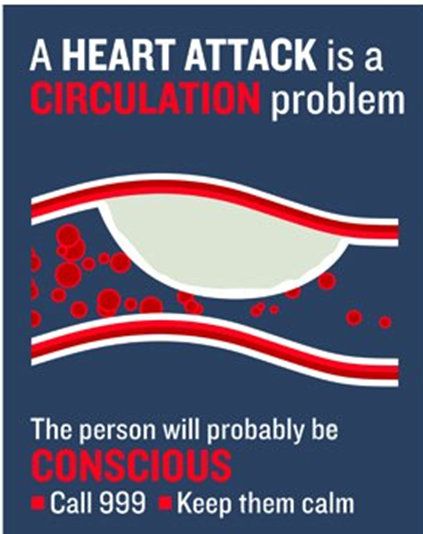 A heart attack occurs when a blocked artery keeps oxygen-rich blood from reaching a section of the heart. If the blocked artery is not reopened quickly, the part of the heart normally nourished by that artery begins to die.
Heart attacks most often occur as a result of coronary heart disease (CHD), also called coronary artery disease. CHD is a condition in which a waxy substance called plaque builds up inside the coronary arteries. These arteries supply oxygen-rich blood to your heart.
When plaque builds up in the arteries, the condition is called atherosclerosis. The buildup of plaque occurs over many years. Eventually, an area of plaque can rupture (break open) inside of an artery. This causes a blood clot to form on the plaque's surface. If the clot becomes large enough, it can mostly or completely block blood flow through a coronary artery.
If the blockage isn't treated quickly, the portion of heart muscle fed by the artery begins to die. Healthy heart tissue is replaced with scar tissue. This heart damage may not be obvious, or it may cause severe or long-lasting problems.
A less common cause of heart attack is a severe spasm (tightening) of a coronary artery. The spasm cuts off blood flow through the artery. Spasms can occur in coronary arteries that aren't affected by atherosclerosis.
Heart attacks can be associated with or lead to severe health problems, such as heart failure and life-threatening arrhythmias.
Symptoms of a heart attack may be immediate and may include intense discomfort in the chest or other areas of the upper body, shortness of breath, cold sweats, and/or nausea/vomiting. More often, though, symptoms start slowly and persist for hours, days or weeks before a heart attack. Unlike with cardiac arrest, the heart usually does not stop beating during a heart attack. 
---
So there is a link between them?
---
Yes. Sudden cardiac arrest can occur after a heart attack or during recovery. Heart attacks increase the risk for sudden cardiac arrest. Most heart attacks do not lead to sudden cardiac arrest but when sudden cardiac arrest occurs, heart attack is a common cause.
Other heart conditions may also disrupt the heart's rhythm and lead to sudden cardiac arrest. These include a thickened heart muscle (cardiomyopathy), heart failure, and arrhythmias, particularly ventricular fibrillation and long QT syndrome.
Sudden Cardiac Arrest is also often linked with coronary artery disease, the same factors that put you at risk of coronary artery disease may also put you at risk of sudden cardiac arrest. These include:
A family history of coronary artery disease

Smoking

High blood pressure

High blood cholesterol

Obesity

Diabetes

A sedentary lifestyle

Drinking too much alcohol (more than two drinks a day)
Other factors that may increase your risk of sudden cardiac arrest include:
A previous episode of cardiac arrest or a family history of cardiac arrest

A previous heart attack

A personal or family history of other forms of heart disease, such as heart rhythm disorders, congenital heart defects, heart failure and cardiomyopathy

Age — the incidence of sudden cardiac arrest increases with age

Being male — men are two to three times more likely to experience sudden cardiac arrest

Using illegal drugs, such as cocaine or amphetamines

Nutritional imbalance, such as low potassium or magnesium levels