The RFU have partnered with the Community Heartbeat Trust
---

---
The leading charity in community public access defibrillator schemes. CHT work closely with the NHS Ambulance Services, and can provide support to Clubs, Schools, Colleges/ Universities with all aspects of procurement, training, governance and maintenance of automated external defibrillators (AED).
---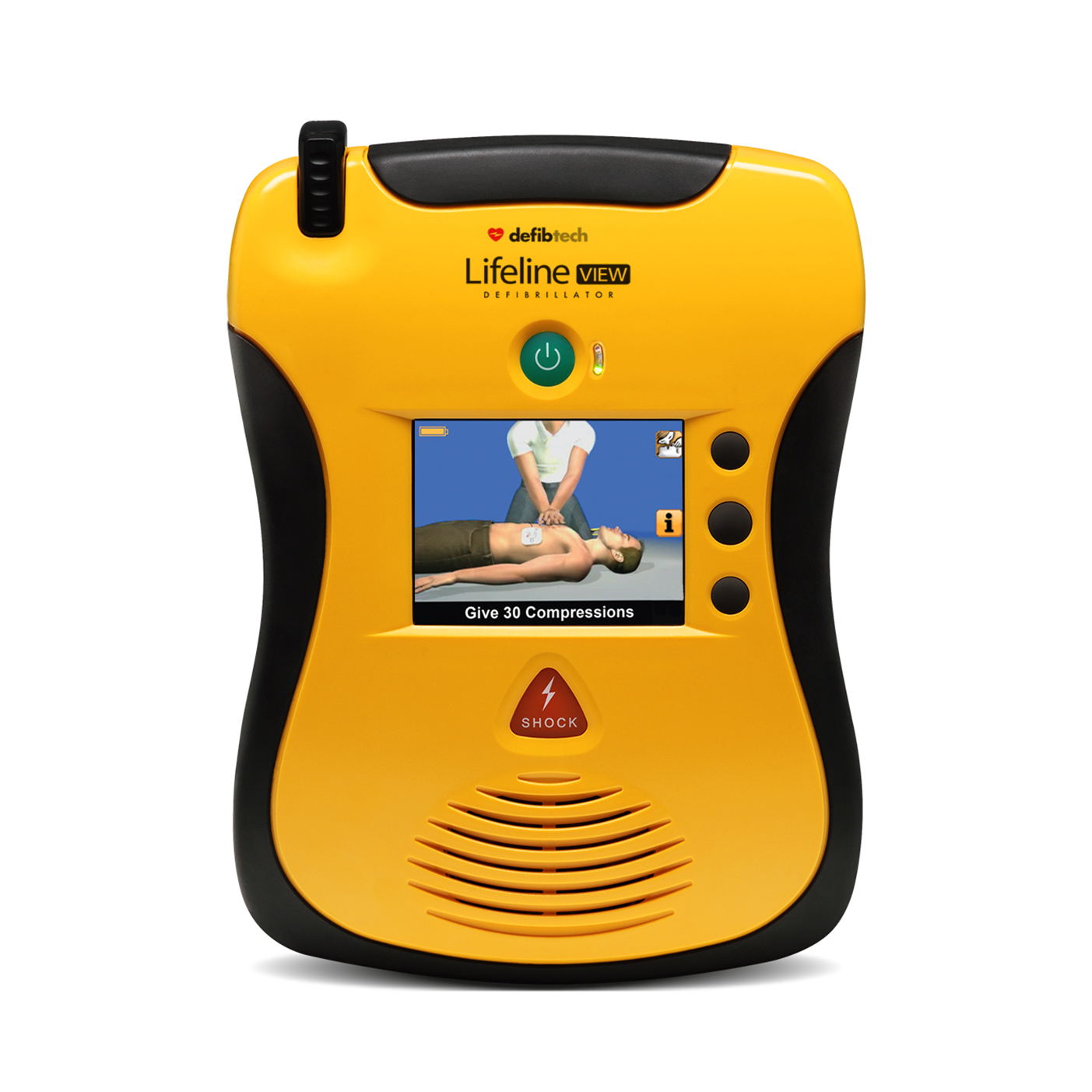 When and how are ​they used?
In the UK approximately 60,000 people sustain cardiac arrest outside hospital and are treated by emergency medical services (EMS) each year. If defibrillation is delivered promptly, initial survival rates as high as 75% have been reported.   
The chances of successful defibrillation decline at the rate of about 10-20% with each minute of delay.
It should be recognised however that CPR (combined chest compression and rescue breathing or chest compressions alone) will help maintain a shockable rhythm until a defibrillator arrives but is not a definitive treatment.
(Defibrillation is not however used in all cases of cardiac arrest, even if available immediately, an AED would not be of use in 25%-30% of heart disturbances caused by cardiac arrest, and CPR is the appropriate treatment)
CPR should be commenced in all cases of cardiac arrest and the AED applied. The AED will analyse the heart rhythm and will advise on whether defibrillation is necessary. 
In just under a 1/3 of cases, defibrillation is not advised but CPR should continue.
---

Do we need one?
80% of cardiac arrests occur in the home, and of those in public places under 1% occur in a leisure facility or sports ground. 
AEDs are easily used by lay people with some training, and it is recommended by bodies such as the Resuscitation Council UK, that they are of most value when placed in areas where there is a high incidence of cardiac arrest and where it's difficult for an ambulance to get to quickly e.g rural areas, communities with poor road networks or traffic congestion and where large crowds gather.
When considering the purchase of an AED consideration must be given to the cost for ongoing maintenance and regular training of users. The general consensus among experts is that refresher training should occur every 6 to 12 months.
UK Heart Charities collectively have supplied more than 8000 defibrillators in community settings but still advocate that:
"It would be better if more people were trained in CPR, which buys time before defibrillation." 
Being able to do CPR more than doubles the chance of survival. this can be taught as part of a first aid course and the RFU's emergency First Aid course includes CPR training - more information on this and other courses is available at www.EnglandRugby.com/firstaid.
---
Community Heartbeat will.. 
Provide Best Practice guides for clubs

Provide a variety of equipment based upon CHT's tier system to give clubs a choice and to reflect local ambulance service requirement if appropriate (Tier 1 AED: Suitable for the untrained user, Tier 2 AED: Suitable for a trained user)

Undertake all registrations with the local Ambulance Service on behalf of clubs

Provide Access to the WebNos Governance System - RFU will be given supervisor access showing all rugby clubs participating are adhering to all aspects of their governance 

Provide training resources (Training guides for clubs, trainers if required)

Offer a "Managed Solution" service where required (includes insurances and replacement equipment if lost or damaged for Tier 1 equipment only)

Survey and review any existing defibrillator placements and make recommendations

Ensure that clubs are complaint with existing standards and regulations (e.g electrical standards)

All external cabinets will carry the RFU logo 

Provide DRsABCD posters for clubs
RFU will ask clubs to work with CHT
The Process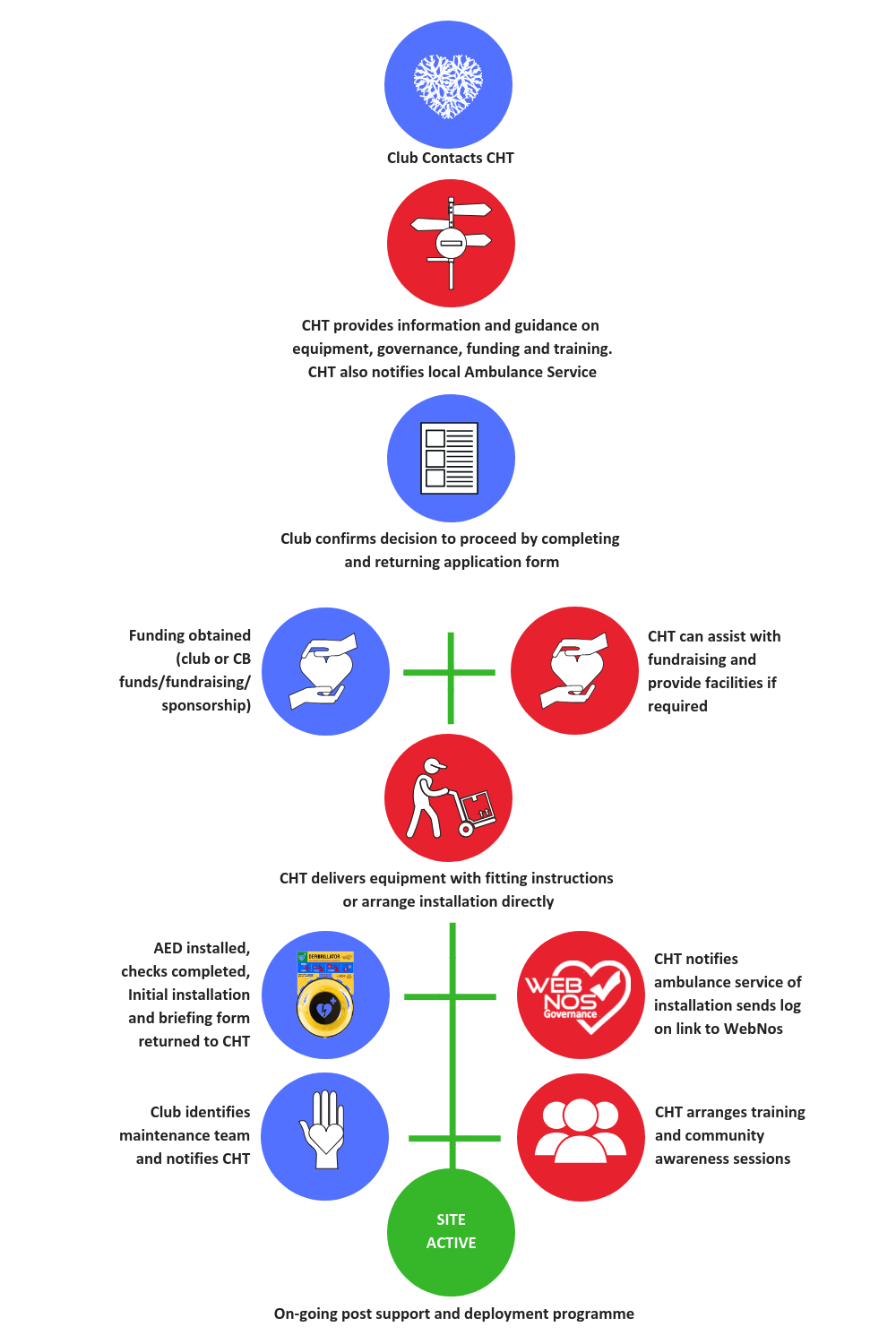 If you are looking to start a project or obtain an AED for your club please click on the enquiry link below or e-mail rugby@communityheartbeat.org.uk.